Online image editors have advance to a great deal over the past few years providing free and subscription-based options for users of all levels, and offering a solution. These editors help you to import images from your social networks, retouch photos, promote your work, and much more, surpassing even the mightiest of desktop applications. Image editing has by all odds raised from being a desktop task merely. Presently, there are scores of easy to use online image editing services that may come in handy for everyday work routine bringing the same familiarity of a desktop environment.
We have compiled a list featuring the best of the lot that requires minimum time and skills to make your photos better than ever.
Adobe Photoshop Express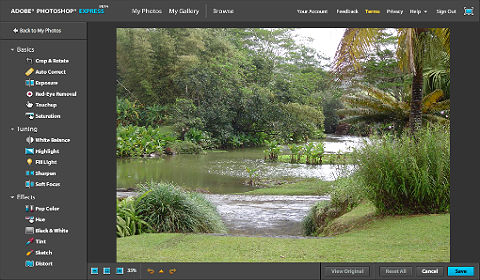 Adobe's Photoshop Express is the official lightweight online version of Photoshop capable of performing several photo editing tasks. It offers an easy to use interface and covers almost all the basics. It allows photo upload from Facebook, Photobucket and Picasa and provides free 2GB of free online storage. You need to register for a free account to get started with their services. So far it only accepts JPG files for upload.
FlauntR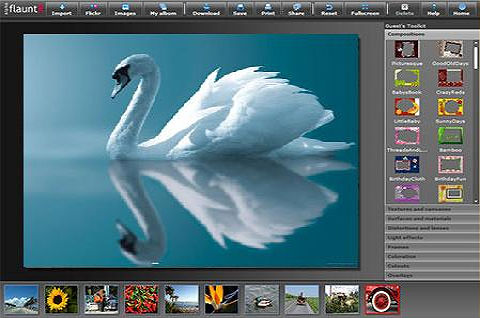 FlauntR is a professional, free photo editing service offering a profusion of image tools, boasting thousands of photo effects that you can apply to your pictures with just a click of a button. It is big on backgrounds, fake magazine covers and basic editing tools. It's quite fast and easy to use and works in almost every browser without any problems. You can store unlimited photos online. With FlauntR you can convert edited photos into posters, canvas prints, and greeting cards and can even use dozens of fancy fonts and effects for all sorts of photos and backgrounds
FotoFlexer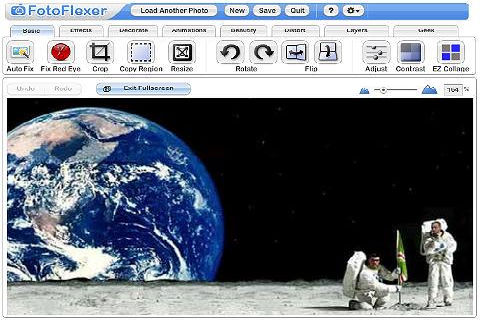 FotoFlexer is a very feature rich completely free online photo editor that requires you to have an account. It has numerous tools such as distortions, layers, effects, smart scissors and a whole lot more. It allows you to add several effects, decorate images, animations, resize, recolor, smoothen and more in a easy to use way. Foto Flexer enables you to composite and layer images but without using a traditional layers palette. Fotoflexer allows you to edit photos images directly from sites like Photobucket, MySpace, Facebook, Flickr, Picasa and other sites.
Online Image Editor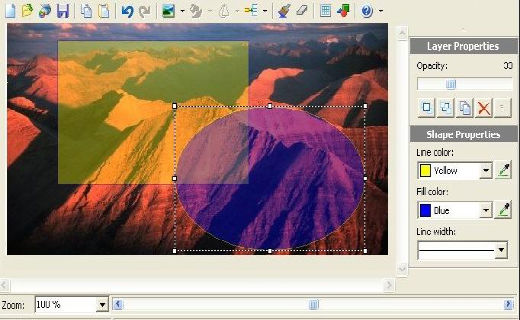 Online Image Editor is a multi-platform compatible program that enables content managers and editors to add, maintain, create and edit photos, images or other graphical material stored in computer directly from within their browser. It offers some advanced tools and the ability, upon subscription, to install image editing on your own site if you choose. It also enables designers to create more complex graphics in a drag-and-drop environment.
Phixr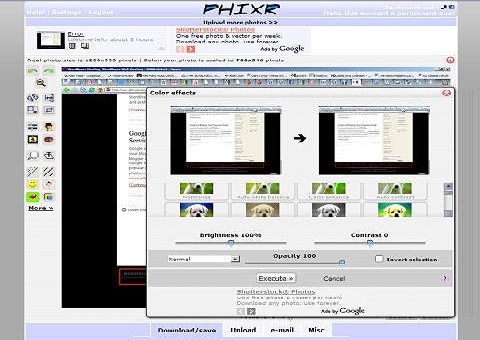 Phixr offers a wealth of image-tweaking tools that are easy to use and loads of options for distributing the finished product. It covers all the basics including cropping, brightness, sharpen, etc. while offering plenty of nifty advanced effects. Phixr directly supports Facebook, MySpace, Twitter, flickr and many more. You can save to popular formats and upload your finished images to all of the popular photo services.
Picnik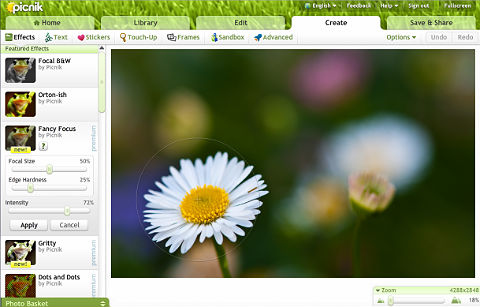 Picnik is the most popular web-based free photo editor that allows you to edit and alter your photos by linking up with Facebook, MySpace, Flickr, Webshots, Photobucket and Picasa's online albums, as well as those stored on your computer. With Picnik you can fix photos in just one click and crop, resize, and rotate them in real-time. It has numerous easy to use yet powerful editing tools as well as oodles of effects, fonts, shapes, and frames for free. More tools are available with a premium subscription. It is directly integrated with Firefox with a handy extension.
Pixer.us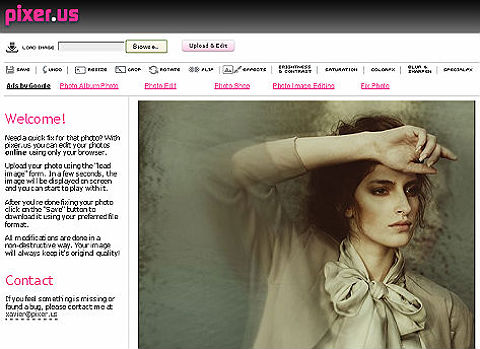 Pixer.us is a straightforward and easy to use ajax based free editor that lets you manipulate, edit, enhance and apply filters to your digital pictures using only your web browser. You can easily crop, rotate, resize, rotate, flip and preview, and with a handful of effects such as colorfix, blur & sepia tone you can adjust the brightness, contrast, and saturation. It has the ability to color tint your photo or artificially age it. Pixer.us really shines for its simple editing interface. After you're done fixing your photo, you can save and download it using your preferred file format. All modifications are done in a non-destructive way retaining its original quality.
Pixlr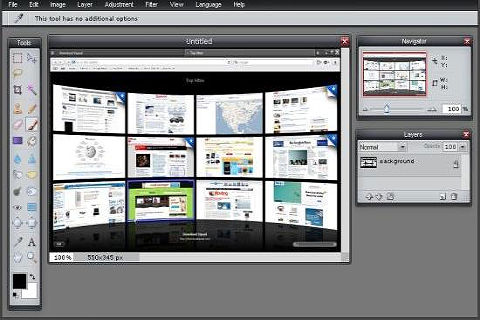 Pixlr is a relatively advanced and powerful free online image editor that allows you to crop, resize, rotate, apply layers, adjust filters and colors and more. It is available in numerous languages and has an API that is free to use. Once you're done fixing the image you can download and save it to your computer. It also has an advantage that it can save files online making it more flexible tool when working on other people's computers.
Snipshot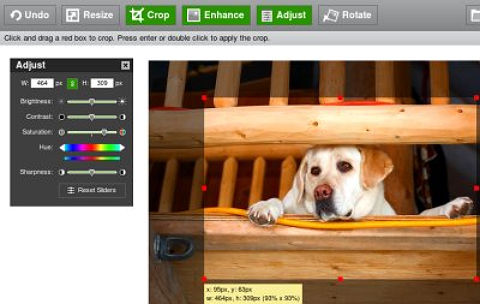 Snipshot allows you to resize, enhance, crop, rotate and adjust the images and the ability to save to the Web or your computer. The interface is equally clean, simple and clear with no ads at all. It has an API for integrating photos with your own site, and a Firefox extension and bookmarklets allowing you drag any online image into Snipshot for editing. More effects and tools are available for a premium subscription fee.
Splashup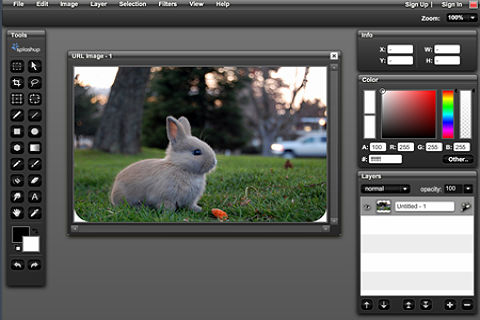 Splashup offers a full featured lightweight online editor with very polished interface that allows you to pull in images from Facebook, Flickr, Photobucket or any URL you specify. It has layers along with the other image editing features. Tools and palettes are modeled after Photoshop. You can also download Splashup Light for mobile computing and simple editing on the go.