Stripe image is quite popular and goes well with many type of website layout. If you are intended to make up a website, all you need is add a matching stripe background. Luckily there are some online stripe generators which are often easy to use and give quick results. These background image generators save time for designers as you can experiment with a wide variety of combination of colors, stripe angles and textures. These generators let you choose the exact stripe color, stripe size, background color, shadow style and stripe texture for your website. All you need to do is put in hex values of colors needed in stripe, find tune using slick interface and you are done with it. A small preview window shows how the stripe will look saving your time in testing.
Below we present five online stripe generators, creators, and makers that can help you create stripe background images easily and swiftly.
Stripe Generator 2.0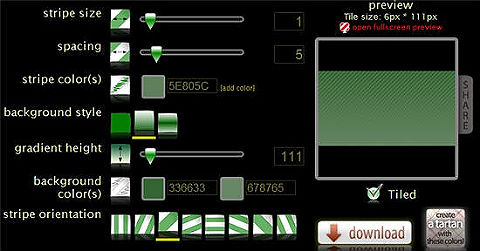 Stripe Generator 2.0 is the most popular one out of all of the Stripe Generators. You can set stripe size, spacing, stripe colors, background style, shadow, gradient height, background colors, as well as stripe orientation to create the best striped background. After getting yourself registered you can also share your stripes with other users and you can play with stripes made by other users.
Stripe Mania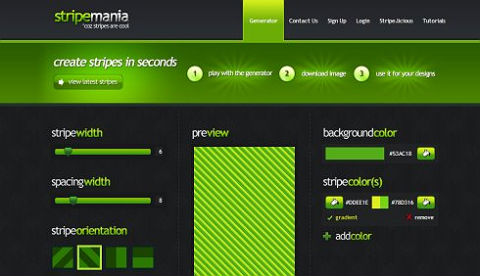 Stripemania is a free web 2.0 tool to create seamless diagonal stripes for your designs. It makes it easy and quick to create stripes and can even add color gradient effect for all of your stripes. You can change the sliders for the stripe width & spacing, and then change the color of the background and the stripe gradient. Options include stripe width, spacing width, stripe orientation, background color, and stripe color. If you are a registered member, you can view stripes made by other users, and share your stripes with them. You can use the Preview button to view a full-screen pattern on your computer. Once you are done, you can download the background image and use it on your website.
Striped Backgrounds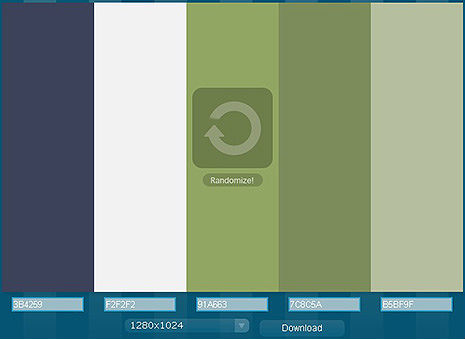 Striped Backgrounds is probably the simplest application for anyone that likes stripes. This generator creates boldly-striped backgrounds in any resolution. It has five slots for colors, no orientation, no size, and no other options as well. Simply load the page and hit the randomize button until you find an interesting color scheme. There is however an option where you can choose the resolution. If you need vertical stripes this might be the tool. Once that's done you can download the image and save it to use as a background!
OGIM Stripes Maker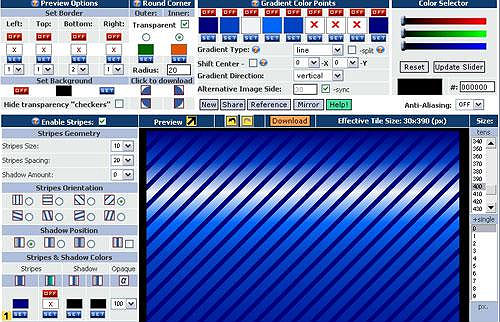 OGIM Stripes Maker is a distinctive online application capable of generating wide variety of gradient strips images. It has a lot of tiny options where you can hardly see which option is for what. You can set stripe size, spacing, shadow amount, anti-aliasing, orientation, shadow position, colors, etc. OGIM can draw precisely positioned stripes over gradient image to make uninterrupted and smooth joints while image is tiling in any direction. There are nearly infinite possibilities for blending colors, transition point locations, gradient types and stripes configuration while making rich images for site menus, buttons, background and highlights. There is also a sharing option but only if you are a registered member.
Website Toolbox Pro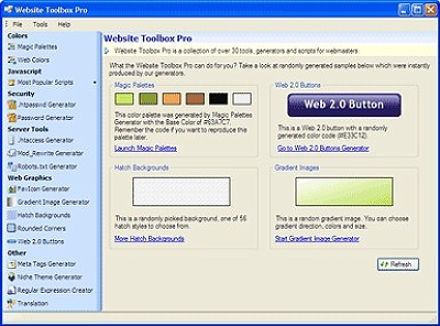 Website Toolbox Pro is a collection of over 30 generators, Web 2.0 elements, tools and scripts for webmasters and web designers guaranteed to work, helping you build websites faster, saves your time and money. This software application provides you with stripe backgrounds, Web 2.0 site background style, a color palette generator, a gradient image generator, more than 50 hatch background styles, including popular stripe backgrounds, rounded corners for website tables, a favicon generator to create a favicon from any image, .htaccess, .htpasswd and mod_rewrite generators, a regular expression creator, robots.txt file creator, website translation script, most popular javascripts and more.