Android is fast becoming the name of the choice for mobile operating systems. Special thing that sets Android apart is its Linux kernel, which is miles ahead of the other smart phone operating systems in terms of functionality and stability. Open software movement has brought hundreds of developers together, who have written thousands of applications for Android to make your smart phone 'smarter'. All of them are Java applications that run on the Dalvik virtual machine. Having strong support of Google, it has taken the lead operating systems like iPhone OS and Windows mobile OS head on.
At present there are numerous Android applications but 15 best rated applications for the year 2011 have been filtered out that you should check out for your perusal.
Advanced Task Killer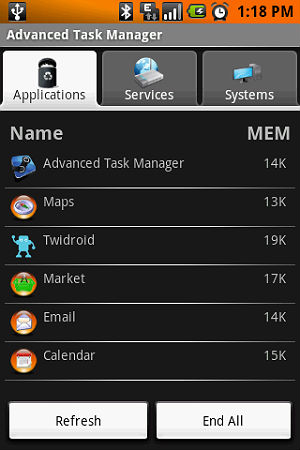 Advanced Task Killer is equivalent of Task Manager in Windows that needs not to be neglected. It can stop frozen applications right away and allows you to stop running background processes or apps in memory thus solving your Android phone's freezing problems. This tool can be a very helpful to extend your battery life and your overall work.
Amazon Kindle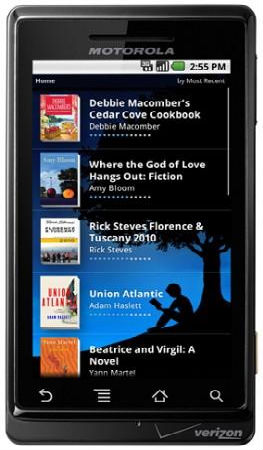 Amazon Kindle for Android is an ideal application for the e-book reading masses and is usefully the reader that respondents like. It serves as an Android library that is fully loaded with a vast and diverse collection of books.
Astro File Manager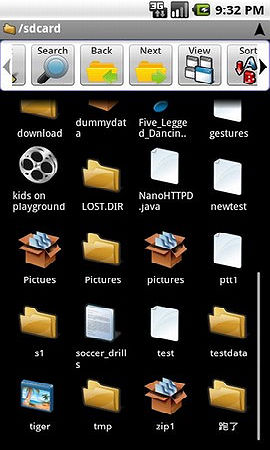 Astro File Manager is the file management system for your Android phone with all of the bells and whistles, and the graphical interface is first-rate. Besides, it lets you create, compress and back up files, download any file with browser and restore public applications to the SD card. It also creates shortcuts, sends files as attachments and much more. It is especially useful for moving stuff onto SD cards in the phone.
Barcode Scanner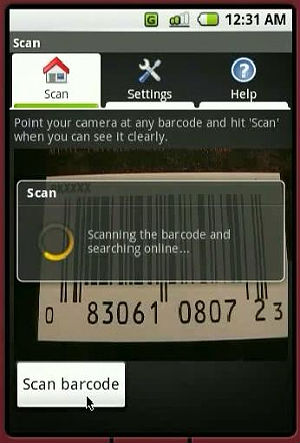 Barcode Scanner turns the Android camera into a barcode scanner. It can simply scan a product's UPC code and read the barcodes of products and then fetch all the information pertinent to it on your smartphone. It helps in shopping retail to let you check the price of a product online before buying.
Bump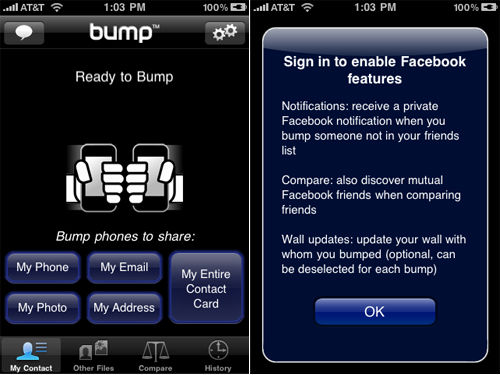 Bump features software that permits Android users to share files, photos, contact information, apps, info and other files amongst each other, by simply bumping their phones together. It also works between two phones, Android and iPhone, using the accelerometer.
CardioTrainer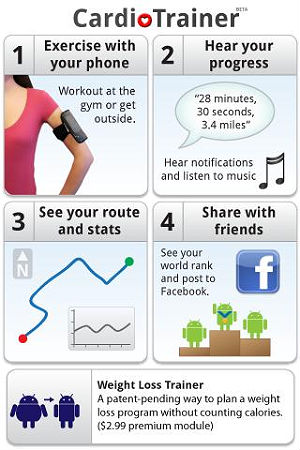 CardioTrainer is a next-generation Android-only fitness application that tracks your fitness schedule and calorie consumption, and can be your virtual training partner for running, biking, hiking, skiing or any outdoor activity. It includes a music management feature to keep your workout tunes fresh. It includes voice settings to receive notifications for time, distance, calories, racing intervals and calories burned. CardioTrainer will use GPS to show your real-time position on a map, and also save your exact route, so you can review it later in your Track History. It also gives you a number of statistics, including steps, distance, pace and elevation. CardioTrainer also features Facebook integration.
Dropbox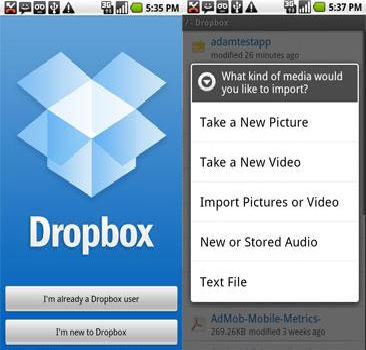 Dropbox offers backup features and sharing features available. It is a useful combination of a Web service and a Mac OS X program that extends Dropbox to Android and interacts with other apps to open the files and works together to make your data accessible from anywhere. With the online data backup service you can easily share folders for collaboration, share links to photo galleries and sync across multiple computers using the cloud network.
Evernote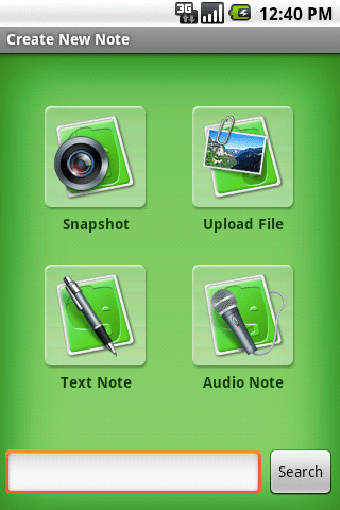 Evernote is a note-taking application that synchronizes with desktop and browser software and is in a way similar to Dropbox that it saves data locally but syncs it across all your machines and devices. It lets you remember and recall anything that happens in your life. From notes to ideas to snapshots to recordings, put everything into Evernote and watch as it all instantly synchronizes from your phone to the Web to your PC. Evernote App for Android has an ability to create a note based on audio as well as a note based on a snapshot that you can take with your cell phone. You can even upload other files into notes and create notes that are a combination of multimedia and text. The free version stores a fair amount of information, but after being bought it gives an unlimited storage.
Google Shopper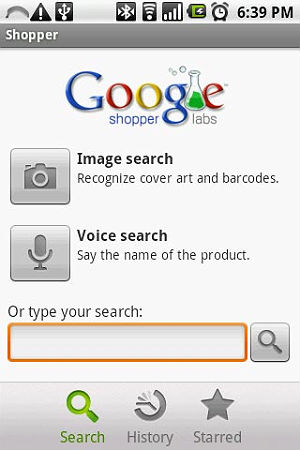 The free Google Shopper app is little more than a barcode scanner connected to a Google shopping search. This app can save you hundreds of dollars by helping you find better prices nearby or online. It recognizes books, CDs, DVDs, and video games by their cover art, and also offers barcode scanning that allows you to compare prices on the go. If the scan doesn't work, you can speak the product's name and the app finds the product through voice search. You can view prices, reviews, and specs, and star your favorites for later. Shopper also saves deals you find by starring items, and the app keeps track of your search history for offline use and lets you share products with friends.
Google Sky Map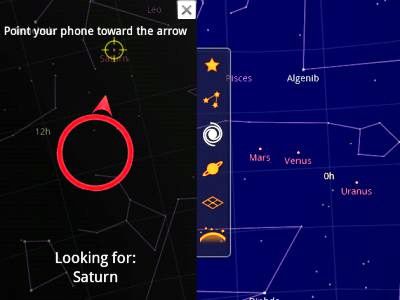 Google Sky Map is a free application that serves as Droid telescope. You can discover and browse the night sky just by pointing your phone to space using GPS, accelerometer, compass and date time information to identify stellar objects and display the names on the screen. Through Android phone's orientation sensors, you can see a star map for your location and can browse a map showing the brightest naked-eye stars, planets, sun and moon, constellation lines, horizon, cardinal points, and Messier Objects.
Meebo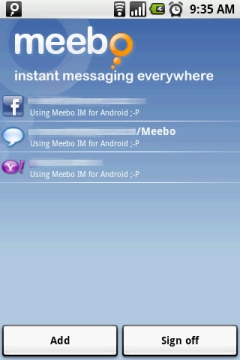 Meebo is a free IM downloadable application that supports AIM, MSN, Yahoo, MySpace IM, Google Talk, Jabber and ICQ. You can log into all your IM accounts and send messages for free with Meebo and your chat history will be saved forever, and can be accessed from anywhere by logging in at Meebo's website. It even allows you to update your status message. The Meebo client for Android runs in the background and displays new notifications in the system tray. It features no SMS charges and application runs in the background.
Pandora Radio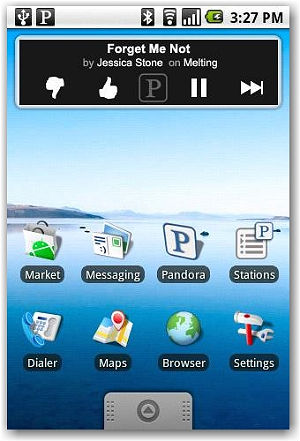 Pandora Radio is a free custom-made radio that creates personalized radio stations keeping in view your favorite songs and artists. You can search by an artist or song and it will create a running playlist based on that one piece of information. It streams music on your Android phone concurrently when other applications are being used. Pandora on Android is fully integrated with Pandora on the web. You can enjoy all your existing stations and can create new ones right from your Android phone.
Shazam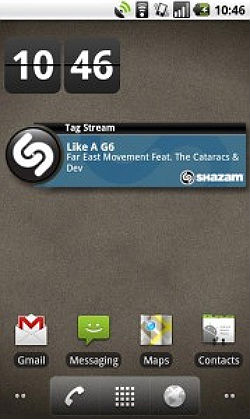 Shazam has enjoyed wide popularity on the Apple iPhone platform. It can identify any song for you that is played in the background. Shazam let you find the latest music of your favorite artists. All you have to do is to hit the button and let it listen for 15 seconds, query its database, and then return the name of artist and the song. Shazam can also let you track concert events and happenings in the music world.
Trip Journal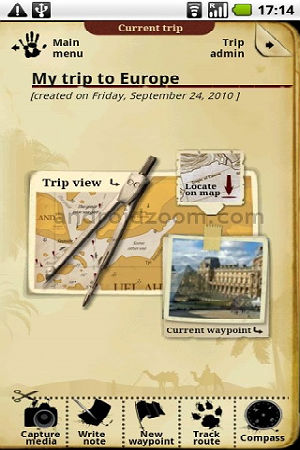 Trip Journal allows to document travel experiences including distance, time and geography traveled; automatically tracks itinerary in real time on either Google Maps or Open Maps and provides a facility to maintain a travel journal on your Android smart phone. The trip information can also be accessed by chronologically browsing the locations list and media galleries as well as the blog entries. All the recorded items are fully editable. Trip Journal also supports past trip management and multiple trip management.
WaveSecure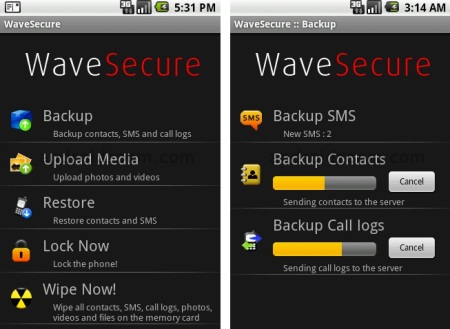 WaveSecure is a complete mobile security service that lets users protect data on your Android smart phone, ensure privacy in the event of theft and enhances the possibility of recovering the phone. It can track your phone for you when stolen, back up your data and ensure that it stays secure. It automatically locks your phone once a SIM change is detected to prevent unauthorized use and to make the phone worthless to the thief. Important personal information can be stored securely on the WaveSecure web site. You can also restore your data wirelessly.